Summit of Awesome Review, Day 1
Thursday, October 20, 2011 20:53
This first day of the Summit of Awesome in Baltimore was a total blast! We want to thank all of our super amazing attendees, volunteers and speakers for coming to make it a success.
The morning began with registration and a chance to craft your own name badge or project in the Make Something Awesome Area.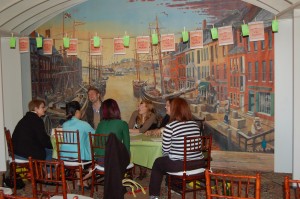 We then started the first morning sessions: Branding and Identity with Jeffery Everett; Making the Not-So-Fun Stuff Easier So You Can Save Time and Sell More with Willo O'Brien; Screen Printing with Christy Petterson; Unblocking Your Creativity with Danielle Maveal and Community, Mafias, and Street Teams with Rachel Bone, Jen Menkhaus and Isaac Watson, as seen to the right.
Next was the lunch and Craftnote with BUST co-founders Debbie Stoller and Laurie Henzel on the topic of DIY or Die: How We Started and Maintained Our DIY Business for 18 Years and Counting, as seen below. They talked about the early days of BUST (when it was just a zine!) and Debbie's first job at Nickelodeon (helping transcribe the script of Hey Dude).
Following that were the first afternoon sessions and workshops: Shameless Self-Promotion with Debbie Stoller and Laurie Henzel; Craft Fair Organizing with Rachel Bone and Andrea and Robert Tucker; Crafting Green with Becky Striepe and Shannon Mulkey; Licensing 101 with Jeffery Evertt and Jon Wye and Etsy Shop Critique with Danielle Maveal.
The next afternoon sessions followed with: Reverse Applique with Shannon Mulkey; Let's Gocco Like It's 2004! with Rania Hassan; Nerdy Tech: Understanding SEO and Analytics with Tara Gentile;  How to Use Light in Your Product Shots with Miranda Lievers; The Press: How to Get and Deal with Coverage with Kelly Rand and Christine Ernest and Pitch Your Craft Book with Kate McKean.
Finally, the last afternoon sessions were: Make Your Own Body Scrub with Kasey and Kelly Evick; Show Me the Money! with Caitlin Phillips; Blogs, Books and Magazines, Oh My! with Kate McKean, Lish Dorset and Kari Chapin; Legalities of Starting Your Business with Diane Leigh Davison MLA and Etsy Shop Critique with Danielle Maveal.
If you have photo from the Summit please add them to the Summit of Awesome Flickr group or to the Hello Craft Facebook page.
You can follow any responses to this entry through the
RSS 2.0
feed.