Craft Idol – Tracy Wagner
Friday, September 16, 2011 7:09
Posted by
Christy Petterson
in category
Craft Idol
As much as I hate that my day job diverts 8 hours of my day away from crafts, I will admit there are the occasional amazing perks (and I'm not just talking about the $s that arrive in my bank account on the 1st and the 15th). One of these perks came in the form of hiring a graphic designer for a project about six years ago. As we discussed the boring details of the promotional brochure that I hired Tracy Wagner for, little did I know that I was talking to one of the most creative and artistic people I've ever known! Since then I've had the wonderful opportunity to work on many projects with Tracy and it is always exciting to see her latest ideas.
Hi Tracy! Tell us about your creative background.
I went to the Savannah College of Art & Design – BFA in photography (switched my major a few times – painting, illustration and finally photography).
Grew up down the road from my grandfather's farm in Osgood, Indiana. Besides being farmers, I come from a long line of crafters – both grandmothers made quilts. Grandma Wagner loved ceramics, knitting and had a little upholstery shop. My grandpa Wagner was a wood worker – had a yard full of penguins at Christmas time. My mother is a weaver and my father dabbles in wood working too.
I have loved art my whole life – remember going berry picking with my grandpa Jackson (didn't care too much for berry picking) so I would sneak off in the cornfield and use my few berries I did pick and draw in the dirt.
Grew up in a small farm town in southeast Indiana. Always loved art but the small farm town life wasn't for me. Moved to Atlanta 1st and studied graphic design at the Portfolio Center – only lasted 1 semester. Moved to White Bear Lake, MN for a year where I was the #1 fruitcake seller that holiday season. I worked at a day old bread store.
Realized I had bigger dreams than the day old bread store so I moved to Savannah and finished up college at SCAD. After college I moved to Hollywood where I had an internship that didn't work out so I moved back to Cincinnati where my graphic design career started at Kanet Productions. After a couple of years I moved to Baltimore, MD and worked as a Senior Designer at Tullier Marketing in Annapolis. After a couple of years I headed south to Atlanta where I have been for 12 years. Started Tweet Design over five years ago and love every minute of it.
You do it all — you're an artist, crafter and designer. What do you like about each? How is working on each different or similar?
I love all three – I think they all tie in and mesh together.
If I am working on a painting I can see little elements flow into my graphic design then I will simplify it and make letterpress cards or tshirts.
Being an artist, I love the freedom – working with my hands, getting dirty and seeing my ideas and thoughts come alive – same thing with crafting. I love working with found objects, junk and anything I can get my hands on. I am self-taught in a lot of things – I don't think I will ever stop learning something new – makes it exciting. Graphic design is a good outlet for my creative side. I can still be creative but with guidelines (clients), taking someone else's ideas or project and making it come alive.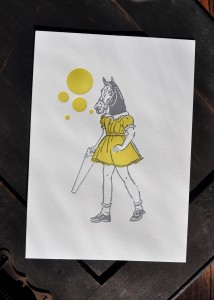 What inspires you?
Anything old that has a history to it – love roaming through flea markets and junk
stores. Lately it has been little things that Henry, my 2 year old son, has been pointing out – he discovered his shadow the other day. Really interested in textile designs especially patterns.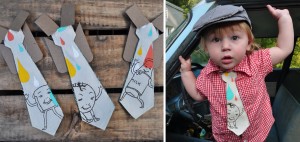 I've noticed you are really active on Pinterest. What do you like about Pinterest?
So many ideas!! I used to save everything I found from the web in a little folder on my desktop and Pinterest is great! Everything is organized and easy to get to. Plus you can see what DIY project people in South Africa are into. Never ending – just need to get started on doing some of those DIY projects and other finds I have saved.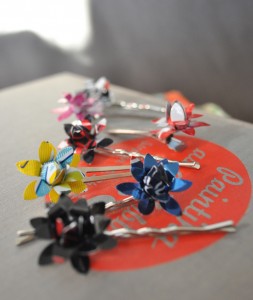 I know you've been working on an upcoming exhibit at Young Blood Gallery. Tell us about the Day of the Dead art show you are curating.
I started the Day of the Dead Show four years ago – wanted to host a group show where everybody starts out with the same material. Picked Day of the Dead because it was a great Holiday and four years ago I didn't really hear that much about it. The idea of making little coffins was a plus too – my husband sometimes isn't too trilled about the idea of making 100+ coffins a year but he is getting really good at coffin building.
It's so exciting to get the little wood coffin back – no two coffins are alike – so many ideas. Just amazing. This year the opening is November 5th at Young Blood Gallery, an awesome gallery and shop here in Atlanta.
What else do you have going on these days? Anything else you'd like to tell us about?
I am in the process of getting a plan together of translating my paintings into clothing, especially children's clothing. I painted a dress for the opening party for the Dali exhibit last year at the High Museum in Atlanta and that started the whole idea.
I started a little blog, and that has been helpful for getting my ideas and 'work in progress' out there. Would love to have another group art show and always thinking of my next art project – never ending.
That all sounds so exciting Tracy! Can't wait to see what you come up with next. Thanks for talking with us!
You can follow any responses to this entry through the
RSS 2.0
feed.