Giveaway and Interview: Make Awesomeness Layer Books
Wednesday, July 27, 2011 8:20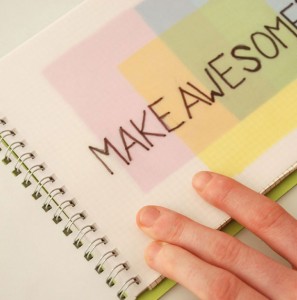 Interested in a sketch-book that combines specially made tracing paper, the "layering" capabilities of Photoshop, and macgyver-esque sensibilites in one? Then you'll be fascinated and excited by Make Awesomeness Books, the handmade creation of designer Leslie Jensen-Inman. The books layer translucent paper with a graph template that can be folded behind any page in the book, without having to be removed from the binding. Each book also includes a blank fold over so you can see your creations without the graph template. The idea is that you can create layers of images to mimic the process used in Photoshop or other graphic design programs.
"One of the wonderful features of programs like PhotoShop, Illustrator, and InDesign is that you can design in layers, but you can't do that in traditional sketchbooks." explains Leslie about her inspiration for her books. "Sure, you could (and I often did) fashion some tracing paper and maybe create some Macgyveresque graph paper contraption so you could have a grid to draw from, but the solution was always awkward and I found that I lost my creative flow just trying to set up a sketchbook to meet my needs. After all of these years, I still wasn't able to find a solution that met my needs, so I decided it was time to create the perfect sketchbook to meet my own needs and the needs of other creatives."
Over email I asked Leslie about using local paper producers to create her books, how her books are made, and the many ways layer books can be used for designs.
— First, some basic questions: I was wondering where you're from and where your books are made? Also, how long have you been making them?
I live in the Chattanooga, Tennessee area on top of a beautiful mountain. Layer Books are made in Chattanooga. Although, we've been working on ideas for Make Awesomeness for a few months, we started creating the Layer Books a little over one-month ago.
– Your main mission is to support the efforts of creatives. Why does this speak to you?
I am a creative. My husband is a creative. Most of our friends are creatives. I am a professor and my students are creatives. I'm fortunate to have a life filled with people who are creative. It's important for me to support the people I care about—the people who bring meaning into my life and who give greater meaning to our world in general.
Stephanie and I want to create products that support a positive message. When a creative reaches for their sketchbook, they are usually embarking on a new challenge. They are trying to capture a new idea. This can be a daunting part of the creative process. As we all have experienced, a blank page can be a terrifying thing. It can actually stop creativity. Consider this: you reach for a Layer Book and it speaks to you and says "MAKE AWESOMENESS. You can do it. You can make awesomeness." You open the Layer Book, see a pop of color, and you are energized. You touch the translucent paper, and you know you can make awesomeness anyway you want to—in layers, without layers, with graph paper to guide you, or with a blank slate. You can use your favorite sketching tools without worrying about ink seeping through onto the next page. You make awesomeness, and you make it on your own terms and in your own creative way.
This is what Layer Books allow creatives to do: sketch like they design—in layers.
— Where did the idea for your books come from? It seems like they would be great for animators or any graphic designer who works in PhotoShop a lot. Do you have a background in that field?
The idea for Layer Books developed out of a love for paper and a desire to have a sketchbook that was a better fit for my creative process.
I had been thinking a lot about technology and about my creative process. I have been doing graphic design since I was fourteen. At that time, I had to sketch before I jumped onto a computer because computers were slow and it was more like crawling than jumping. So sketching was an important part of my process, which looked something like this:
Sketch on paper.
Choose the best direction.
Use a computer to execute the final.
Repeat.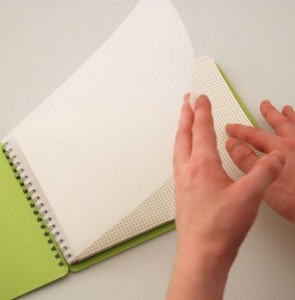 – What do most people use your books for? How do people who don't work on computers for design use them?
One of the most interesting aspects about Layer Books is that people are using them for a vast variety of sketching. One person is using the Layer Books to help her with a new stained glass business. We have parents buying them for their children because they love the positive message. We have a young boy around the age of 9 who plans on using them to create different themes for the cars he draws. He mentioned some car designs with butterflies and others with flames. We have had builders and people in the construction field use the Layer Books to help design different types of windowsills for a standard window. Layer Books are so new that it will be exciting to find out the various ways that people are using them. We've had conversations with web designers who plan on using the ability to layer their sketches to create various options for navigation and content like they would in PhotoShop. We've had people suggest that Layer Books are great for sketching and developing typefaces. Layer Books are also a great solution for creating patterns crafts like cross-stitch. It is easy to create a multi-colored pattern when you're able to sketch in layers.
— Is there a sheet of graph paper behind each translucent sheet? And is the blank sheet secured to the interior of the back cover of the book?
The graph paper and the blank sheet of paper are secured in the back of the book. The blank sheet fold over comes over from the top of the book and the graph paper fold over comes over from the bottom of the book. We created it this way so that it allows people the ability to view their work in as many layers as they want (up to about five layers works best), and they can see their work with or without the graph paper.
— What's your process like? Do you cut all of the paper and bind the books yourself? How long does it typically take to create one?
I work with another designer and maker of awesomeness, Stephanie Tate. We combine our efforts with a local, family-owned print shop called WonderPress. The owner (aka paper whisperer), Cy DeVilbiss, helps ensure that each Layer Book is filled with awesomeness.
Each and every book is handmade and takes about seven minutes to create.
We are still figuring out the best and most efficient process in producing the books. The current process is to digitally print "MAKE AWESOMENESS" on the slate-colored paper. This serves as the outside cover of the Layer Book. We've matched the color of the type to the inside color of the book. The inside cover of the book is a different piece of paper; this is how we can get such a bold pop of color. We don't print anything on the inside cover. The next step is to adhere the slate-colored paper and the pop-of-color paper together. This step is done by hand, as well. By adhering two pieces of paper together we get the equivalent of a super-thick 200# paper. Then the super-thick paper is cut to size and punched for wire binding.
Another reason we use two different colors is to create a beautiful edge to the book. When you look at the edge of the sketchbook, you can see the two different colors. In other words, white paper does not show on the edges.
The translucent paper is cut and punched for the wire binding. Each Layer Book has 50 sheets of translucent paper. The graph paper is printed, cut, punched, and scored so it can fold over neatly. The solid blank paper is cut, punched, and scored. Then all of the pieces (the front cover, translucent pages, solid blank fold over, graph paper fold over, and back cover) are assembled and bound. We use silver wire to bind the books. Then each book is individually shrink-wrapped to make sure no moisture gets to the Layer Book during shipping.
Layer Books are a very production-heavy product. Each Layer Book is reviewed before it is shipped. We want people to feel the awesomeness as they open their package.
— Where do you get your special translucent paper from? Why is this type of paper better than standard tracing paper?
We work with WonderPress and a local xpedx paper representative, Gloria Strand, to obtain the paper. The translucent paper is more durable than tracing paper, and it doesn't unintentionally rip like tracing paper does. However, if you wish to tear a page out of the Layer Book, you can do so easily. The translucent paper is thicker than tracing paper but is actually more transparent. Since the translucent paper is thicker than tracing paper, you can use pencil and color pencils as well as markers, sharpies, and pens without the ink bleeding trough the paper. It's pretty amazing. We suggest that you wait a couple of seconds before touching heavy inks, though. If you want to erase pencil from the translucent paper, you can do so and it looks like a fresh piece of paper—no marks.
Interested in winning a Make Awesomeness Layer Book? Please respond to this post either by leaving a comment on this post or on the Hello Craft Facebook page explaining how you'll use your new Make Awesomeness Layer Book if you win.
Enter both times for more chances to win! This contest will close and a winner will be chosen next Tuesday, 8/02.
You can learn more about Make Awesomeness Books here.

This giveaway is now closed.

You can follow any responses to this entry through the
RSS 2.0
feed.
Both comments and pings are currently closed.