Interview: Soap Makers, Singers, and Shadow Puppeteers Jeff Kurosaki and Tara Pelletier
Friday, March 18, 2011 9:14
http://vimeo.com/12930232
Handmade-soap makers and indie-band members are both a dime a dozen in Brooklyn. Borough residents who do both are probably only slightly rarer. But you'd be hard pressed to find many maker/musicians besides Jeff Kurosaki and Tara Pelletier who are also shadow puppeteers. As Meow Meow Tweet they make an all-natural soap line in their small kitchen and sell it online, at markets and fairs, and in shops around Brooklyn. As the Hawk Is a Lonely Hunter they play a minimalist, emotive sort of indie rock that might be at home on K Records. And as the Friendly Falcons and Their Friend the Snake they create art projects that have involved a pull-toy-ish rat on wheels, a cotton-ball rain cloud that showers blue yarn, and, yes, a shadow-puppet theater – which happens to be in the life-sized form of a grizzly bear.
"Sometimes we have so much going on with all of our various projects that it can get overwhelming – especially during our performances," Kurosaki explains. "Last week, for example, Tara was so focused on our choreography that she forgot lyrics midsong!"
While juggling so many creative outlets, he and Pelletier "approach each art form differently." The soap making satisfies an urge to "create something functional" and "connect with community and participate in our local commerce." The music and art making – with the latter providing props, sculpture, and sets to accompany the former – is motivated by something more elusive and mysterious.
"Have you ever stared out of the window of a fast-moving car or train, watching the scenery pass by as you listen to an amazing song?" Pelletier asks. "That's the feeling we're trying to recreate through our performances." To that end, her and Kurosaki's "sculptural bear-shaped apparatus" includes a screen on which shadow puppets of various animals appear before a background that Pelletier scrolls through by turning a crank. At the same time, she also sings, plays keyboard, and works the puppets. Kurosaki sings, too – and plays guitar, percussion, and harmonica. The whole thing, the duo insists, "provides a multifaceted performance, so that audiences take away a larger theme, story, or feeling from each song."
It's also surprisingly accessible and charming – much like the Meow Meow Tweet/Hawk Is a Lonely Hunter/Friendly Falcons and Their Friend the Snake multitaskers themselves. Over the pixelated portal of Skype, Pelletier and Kurosaki, accompanied by their closest companions and greatest sources of inspiration, the cats Mochi and Chester, talk about their soap, their music, and their art. Characteristically, they also manage to touch on vermicomposting, root beer, and John Steinbeck.
What's it like living and working in Brooklyn? Has the culture of the borough affected your work?
Sometimes it feels like we're living in a small farming town where everyone produces their own goods, knows their neighbor, and participates in supporting their local economy. It doesn't seem at all like the large industrial city that it actually is.
City living has definitely influenced our work, especially our latest performance piece, The Cactus Duet. For that we created a completely portable vessel in which we could transport our art and other performance materials for a European tour. We also designed and created the tent/booth that we sell our soaps from at craft shows. In addition to being a unique design that reflects our aesthetic and personalities, the whole framework can be disassembled and fit into the trunk of a taxi. We want to create things that are practical and useful in addition to being emotive works of art. That's probably a symptom of living in a city as busy and crowded as New York.
Why handmade soap?
Our soap making was born out of idealism in regards to our way of living. At the time, we were also vermicomposting and gardening in our Brooklyn apartment. … Jeff made all of our furniture, and Tara was making us clothes. We had this idea that we could be completely self-sufficient. We decided to make MMT a business with the idea that it would also help to support our art practice in terms of providing a flexible schedule for our lives.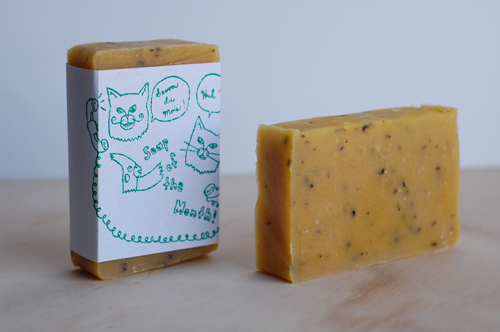 Do you still vermicompost? How are your worms doing inside your apartment?
We still have our vermicomposting worms and they are very productive. The first night we had them was funny. We didn't know that we had to acclimate them to their new compost environment. … So when we woke up in the morning the kitchen floor was filled with worms and the cats were playing with them. We were hopping around rescuing worms at 6 in the morning and shooing cats. Yikes!
Our compost is rarely smelly. If you care for it properly, it won't be. We have a good friend, Amanda Matles, who is an expert vermicomposter. She has been a good resource for us. Usually friends come over and smell the soap, not the compost or the cat litter – benefits of being soap makers.
How do you come up with such unusual scent combinations as grapefruit-mint and tangerine, basil, and poppy seed?
Many of the recipes and scent combinations are inspired by pairings in food. We pair flavors or scents to give the essence or the feeling of the ingredients. Our favorite meals are those that don't try to disguise the ingredients they use, but rather are a celebration of those ingredients and their relationship to one another. We approach our soap in the same way.
Have you ever tried a combination that you thought would smell delicious but didn't?
We always do tests with a small amount of essential oils and mix them with carriers and put them on our skin to see how they smell. Even though soap is different, we want to make sure that the scent smells good mixed with the body. Also, we make a small batch of soap so we don't have a big batch of something yucky. We haven't ever had a scent combo we didn't like because of this process.
Now, how about your music? Which came first, it or your artwork?
Our art came first. We've both attended art school and are long-practicing artists, which is where and how we first met.
What's the creative process behind your songs?
Usually we start the composition process by writing a melody. Sometimes Tara will work a tune out on her keyboard or hum a tune that Jeff will interpret on the guitar, or Jeff will write the melody on guitar first and then Tara will come in with the keys and vocals. We both write the lyrics, a lot of which use imagery of nature as a metaphor for human emotion and struggle. After we've written the music we incorporate set pieces and other sculptures that are made specifically for our stage act. A lot of the props that we create are characters or themes in our lyrics. We gradually choreograph and integrate the props and characters to become part of a larger, more cohesive visual and auditory performance.
For In the Belly of the Bear, how did you come up with the idea of a shadow-puppet theater in the shape of a bear?
We were thinking about one-man bands along with Balinese shadow-puppet theater. Essentially we wanted to make a sculpture that was an apparatus for doing multiple things at once – so we could be a two-person storytelling band. The design and form of the bear was completely determined by what tasks each of us had to do to make the show go smoothly. We built customized work stations for each of us dependent on our instruments and tasks. The first enables Tara to sing while playing the keyboard with one hand and manipulating a shadow puppet with the other, using a crank to change the scene of the theater. The second station is fitted so that Jeff can play multiple instruments in unison.
Do you do anything special to prepare yourselves for one of your supercomplicated performances?
We pet our cat Chester and ask him for good luck. We also drink root beer because our friend told us it's good for the voice.
What's the concept behind The Cactus Duet? I see there's a rat on wheels involved.
The Cactus Duet is a story about travel, nomadism, and the act of searching. We had been reading Travels With Charley by John Steinbeck and were really inspired by the romance of travel. The rat on wheels is a character in the story. We attached strings to either end of him so we can pull him across the stage, illustrating his journey.
This project was a complete turn from our last project, which was a very large sculptural installation on Governors Island, New York. We had a residency on the island for four to five months through the Lower Manhattan Cultural Council. We worked out of a studio there while the island was closed to public. It was a surreal experience, working on an abandoned piece of land with colonial architecture and a bunch of wild geese right next to the overly populated and urban atmosphere of New York City. After that we wanted to make something smaller and more functional than a huge sculpture that would sit in our apartment postexhibition. Thus our traveling set was born. We also felt the need to stretch our legs after working in such a sequestered location.
Did you feel a sense of liberation when on tour in Europe?
Both of us are travelers at heart. We've talked a lot about the tension between the desire to travel and the desire to homestead. We feel liberated when we go on a day trip – so yes, a three-week tour in Europe was the ultimate liberation!
http://vimeo.com/20443928
You can follow any responses to this entry through the
RSS 2.0
feed.